Use the resources on this page to list your event on campus channels, design a branded promotional image, and send an announcement out to the Brown SPH community.
Events@Brown Calendar
Events on the Events@Brown calendar are publicized across campus. These listings, which can also be used to collect RSVPs, appear on Brown's centralized calendar, on digital screens, and on website calendars across the university. An event must be submitted to the university calendar for publicity on SPH websites, social media, and digital signs.
If you are new to your department or role, and would like to administer an existing dept calendar, fill in the request form.
If you are a departmental calendar administrator, login to create an event. 
If your department doesn't have a departmental calendar, you can submit an event to the public calendar. 
If you are submitting to a calendar other than the main School of Public Health calendar, please go to "suggest to group" at the bottom and "suggest" the event to the group "School of Public Health"
Please review and follow the Events@Brown image use guidelines issued by Office of University Communications.
Public Health Pulse
All events submitted or suggested to the "School of Public Health" calendar group will be considered for the weekly Public Health Pulse e-mail newsletter. Events must be posted to the Events@Brown calendar before 11 am on the Friday before the publish date (the following Monday morning). It is not necessary to do anything other than submit the event to the calendar.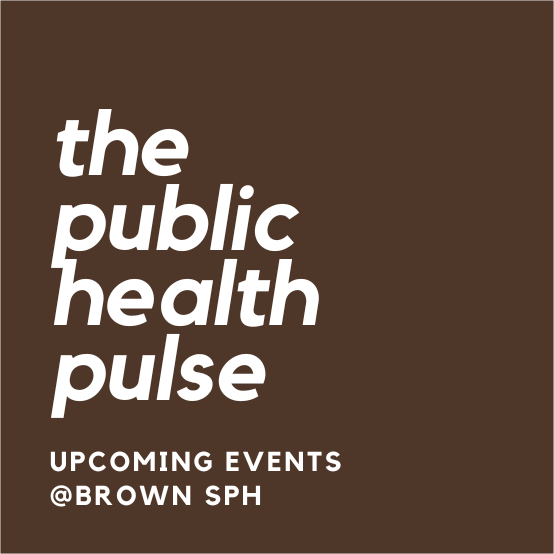 Digital Signs
Events that are chosen as "Featured Events" by the Pulse editor will be posted as a digital sign. If you would like to have a non-Featured Event considered for a sign, share your Canva artwork with Ken Zirkel directly in Canva. Canva artwork can be any size, we will format for the signs. See sidebar for information on requesting a Canva license. Non-Canva artwork must be in 16:9 ratio, horizontal, minimum size 1920x1080 (larger is better), and can be emailed to kenneth_zirkel@brown.edu. Most events are posted no more than a week in advance.